Print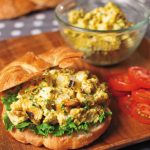 Catfish Curry Salad Sandwich
---
2

pounds U.S. Farm-Raised Catfish Fillets

½ cup

celery, diced

¼ cup

Italian parsley, chopped

¾ cup

toasted pecans, chopped (optional)

1½ cups

Curry Sauce
Salt and pepper to taste

8

large croissants
Butter
Curry Sauce
1 tablespoon

olive oil

½

small onion, finely diced

1

clove garlic, finely diced

4 teaspoons

curry powder

1⁄8 cup

cold water

1 cup

mayonnaise

1 tablespoon

lemon juice
Salt and pepper to taste
---
Instructions
BRUSH fish with olive oil and season with salt and pepper.
PREPARE fish on grill, under broiler or in a heavy skillet.
COOK 3 to 4 minutes per side until done. Place in refrigerator to
cool. When cool, cut into bite-sized pieces and add to cooled Curry Sauce.
SPLIT croissants and lightly butter inside. On grill or in a skillet, lightly brown buttered sides. Assemble sandwiches.
Sauce Instructions
SAUTÉ onion and garlic in olive oil until tender. Add curry powder and cook 2 to 3 minutes.
ADD water and incorporate
into mixture. Remove from heat; add mayonnaise, lemon juice, and salt and pepper. Cool until ready to use. May be made ahead.