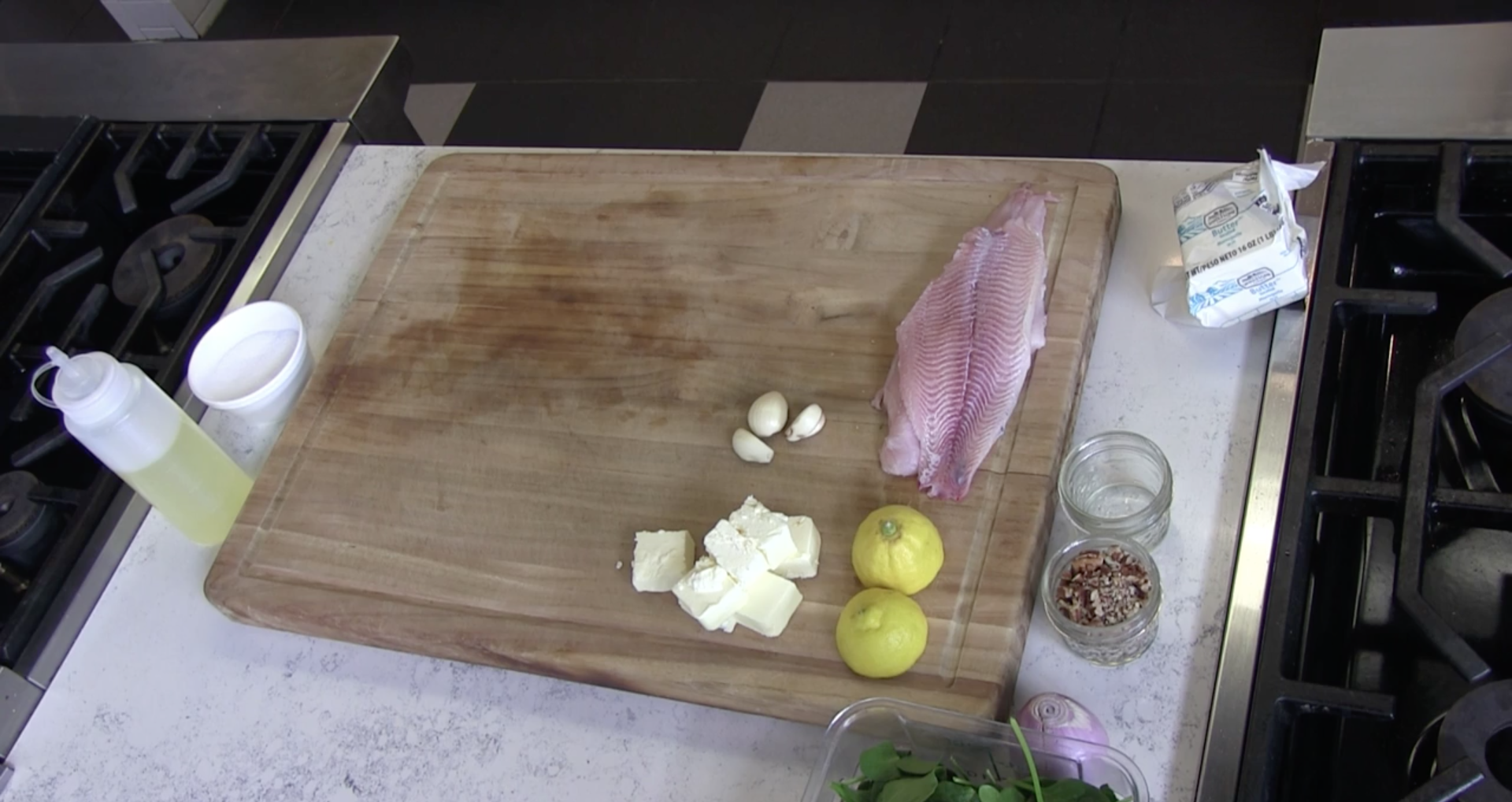 fresh baby spinach
unsalted butter
one lemon, cut in half
pecans, roughly chopped
one shallot
a few cloves of garlic
vegetable oil
Heartland catfish fillets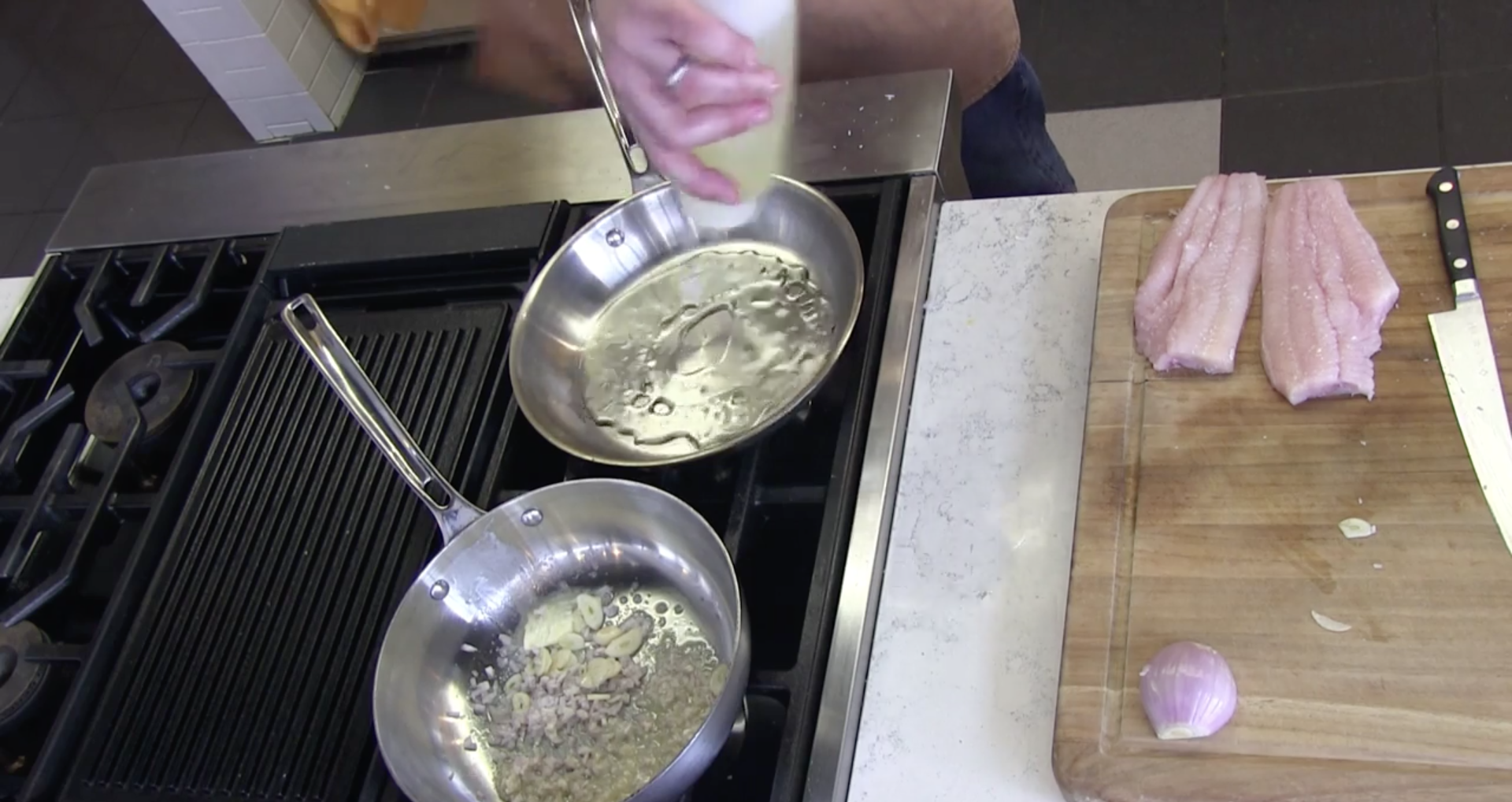 Add a tablespoon of butter to a pan on high heat. Let the butter melt.
In a separate pan, heat the vegetable oil over high heat. Add half a shallot and sliced garlic and saute until they are translucent. Once the shallot and garlic are translucent, add in the spinach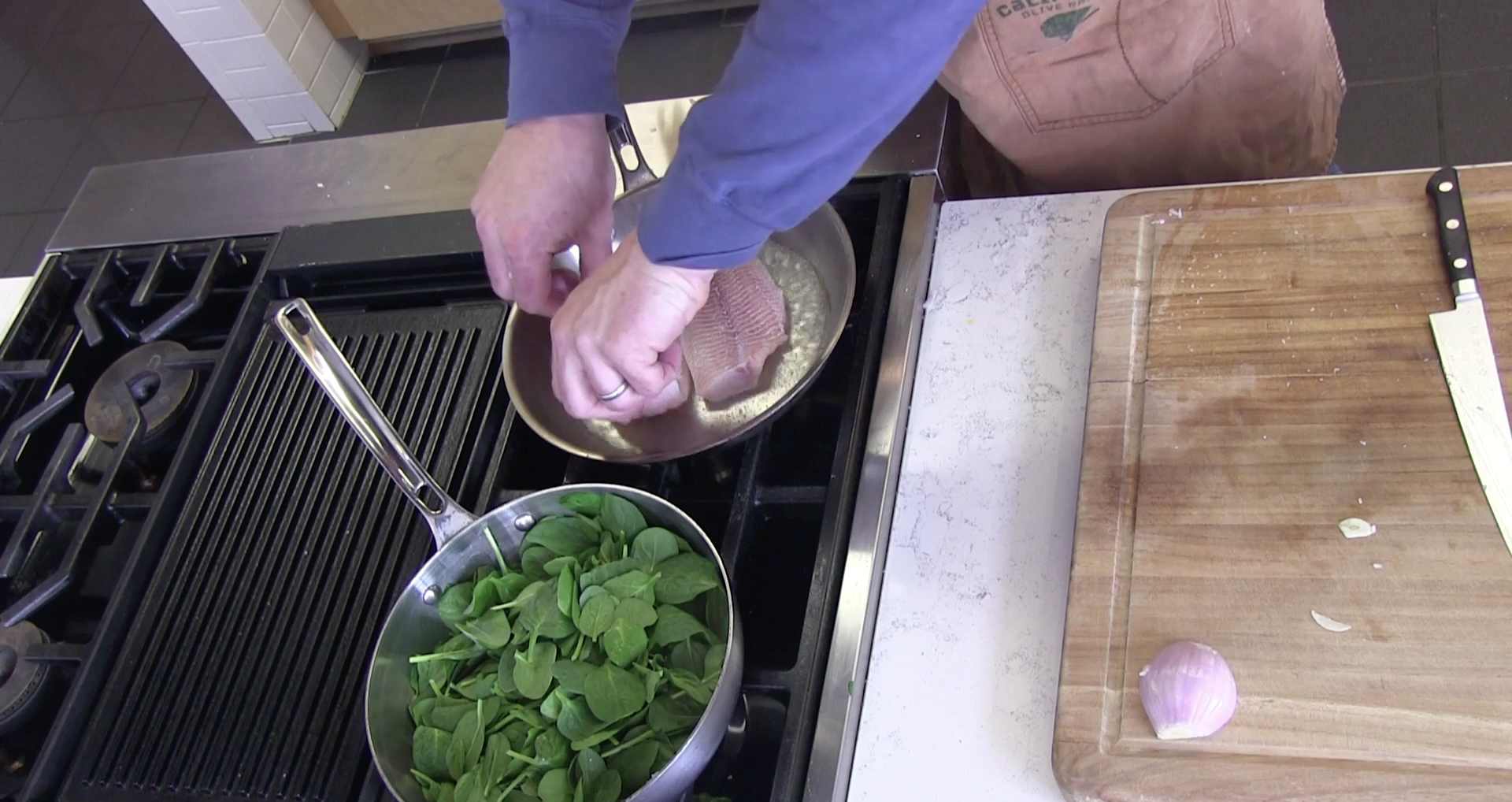 Season your catfish fillets with a little salt and when the pan with the melted butter starts to smoke, add the catfish fillets, skin side up.
While the catfish is cooking, add salt to the spinach and toss. Once the spinach is cooked down, remove the pan from heat.
Once the catfish starts to brown and cook up, flip the fillets to evenly cook on each side. When the catfish is firm to the touch, remove it from the pan and dump the oil out of the pan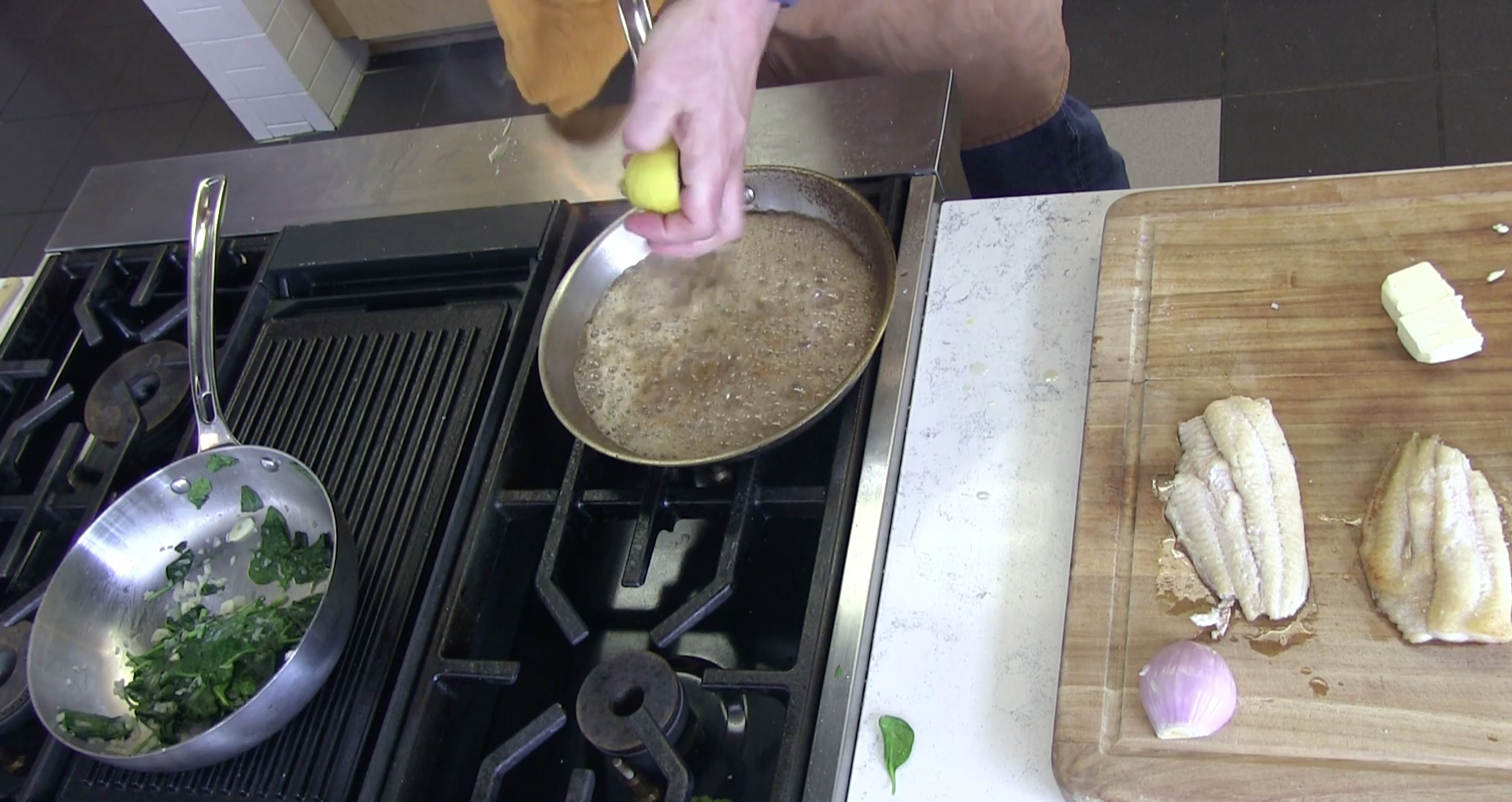 To make the brown butter pecan sauce, bring the same pan that you cooked the catfish in up to high heat and add butter.
When the butter starts to brown, add salt and constantly move the pan as the butter continues to brown.
Add in the pecans to the pan and let them toast lightly. Squeeze the juice of one lemon in the pan. To serve, place the catfish fillet on top of the sautéed spinach and spoon over the brown butter pecan sauce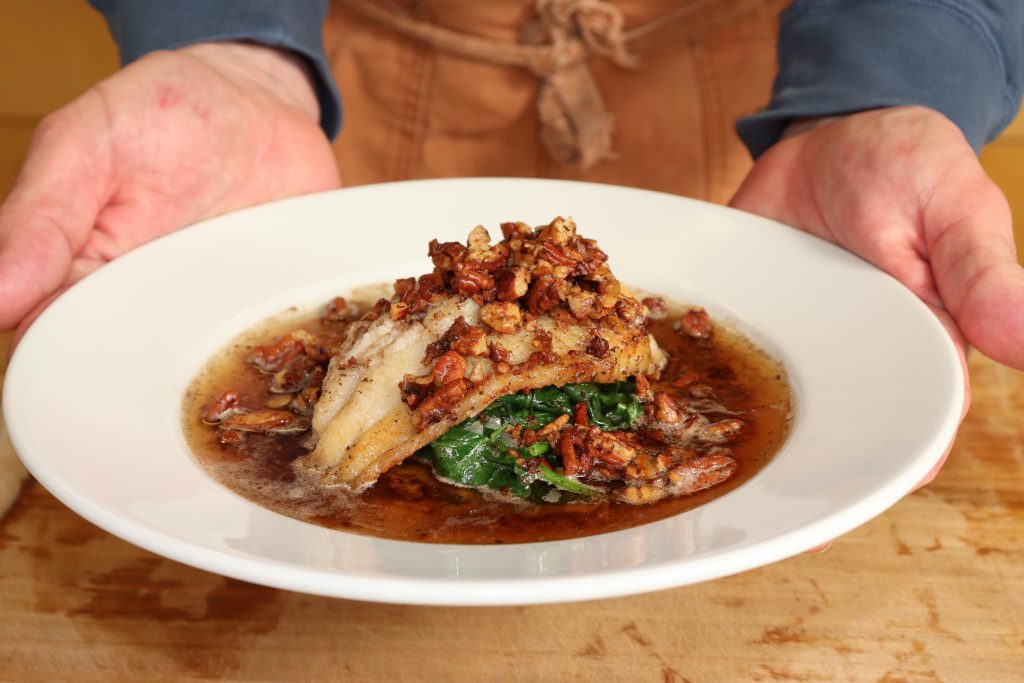 Print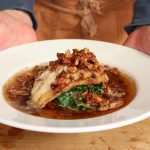 Heartland Catfish Pecandine
---
fresh baby spinach
unsalted butter

one

lemon, cut in half
pecans, roughly chopped

one

shallot
a few cloves of garlic
vegetable oil
Heartland catfish fillets
---
Instructions
Add a tablespoon of butter to a pan on high heat. Let the butter melt.
In a separate pan, heat the vegetable oil over high heat. Add half a shallot and sliced garlic and saute until they are translucent. Once the shallot and garlic are translucent, add in the spinach.
Season your catfish fillets with a little salt and when the pan with the melted butter starts to smoke, add the catfish fillets, skin side up.
While the catfish is cooking, add salt to the spinach and toss. Once the spinach is cooked down, remove the pan from heat.
Once the catfish starts to brown and cook up, flip the fillets to evenly cook on each side.When the catfish is firm to the touch, remove it from the pan and dump the oil out of the pan.
To make the brown butter pecan sauce, bring the same pan that you cooked the catfish in up to high heat and add butter.
When the butter starts to brown, add salt and constantly move the pan as the butter continues to brown.
Add in the pecans to the pan and let them toast lightly.
Squeeze the juice of one lemon in the pan.
To serve, place the catfish fillet on top of the sautéed spinach and spoon over the brown butter pecan sauce